BUDDY GUY CONFIRMS THE BLUES IS ALIVE AND WELL WITH BRAND NEW ALBUM AVAILABLE EVERYWHERE JUNE 15, 2018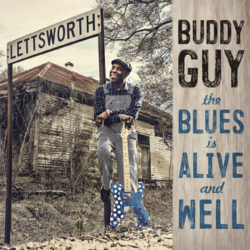 FEATURES APPEARANCES BY MICK JAGGER, KEITH RICHARDS, JEFF BECK AND JAMES BAY
GUY TO APPEAR ON DAVID LETTERMAN'S NETFLIX SERIES MY NEXT GUEST NEEDS NO INTRODUCTION ON MAY 4TH
Fresh off the heels of a thrilling performance for the closing of NYC's B.B. Kings Blues Club and Grill, multi-Grammy Award winning blues icon Buddy Guy announces the upcoming release of his brand new studio album, The Blues Is Alive And Well.
Set for a June 15 release on Silvertone/RCA Records, The Blues Is Alive And Wellfeatures guest appearances by Mick Jagger on "You Did The Crime," Keith Richards & Jeff Beck on "Cognac," and James Bay on "Blue No More." Grammy Award winning producer/songwriter and longtime collaborator Tom Hambridge produced the album.
The Blues Is Alive And Well is the follow-up to Guy's 2015 critically acclaimed album Born To Play Guitar, which debuted at #1 on Billboard's Top Blues Album charts. The album marked Guy's fifth #1 album on the chart and twelfth Top 10 Billboard Blues album.
In his quest to keep the genre vital, Guy chats about the origin of southern blues and performs on David Letterman's Netflix series, My Next Guest Needs No Introduction, airing May 4th.
The Blues Is Alive And Well track list:
01 A Few Good Years
02 Guilty As Charged
03 Cognac (featuring Jeff Beck & Keith Richards)
04 The Blues Is Alive And Well
05 Bad Day
06 Blue No More (featuring James Bay)
07 Whiskey For Sale
08 You Did The Crime (featuring Mick Jagger)
09 Old Fashioned
10 When My Day Comes
11 Nine Below Zero
12 Ooh Daddy
13 Somebody Up There
14 End Of The Line                
The recipient of the 2015 Grammy Lifetime Achievement Award, Buddy Guy's incredible career spans over 50 years with just as many albums released. Career highlights include 7 Grammy Awards, 37 Blues Music Awards, Kennedy Center Honors, NARM Chairman's Award for Sustained Creative Achievement, Billboard Music Awards' Century Award for distinguished artistic development, Presidential National Medal of Arts, and induction into the Rock and Roll Hall of Fame to name a few.
At 81 years young, Guy proves that it gets greater later as he continues to record and tour around the world with upcoming performances at the New Orleans Jazz & Heritage Festival on May 6, Austin City Limits Live at the Moody Theater and more (click herefor full touring schedule).
Stay connected with Buddy Guy:
www.buddyguy.net
www.facebook.com/therealbudyguy
instagram.com/therealbuddyguy