Tim "Too Slim" and the Taildraggers
Too Slim (Tim Langford) is not only a master of slide guitar, But he's also a composer of the highest regard. A supremely talented performer and composer who ranks with the best that blues/rock has to offer."
– Graham Clarke, Blues Bytes
FROM "ROCK AND BLUES MUSE"
By Tom O'Connor
After landing six straight releases in the Top 10 Billboard Blues charts, legend-in-his-own-time, Tim "Too Slim" Langford and his band/institution The Taildraggers, have nothing to prove to anyone, but they're still not showing any mercy on their new VizzTone Label Group release, High Desert Heat out April 27th. This collection of nine savage new songs and one sturdy cover are a testament to the power and gravity that only comes with time.
Fittingly, the album opens with the aforementioned "sturdy" cover of the Chambers' Brothers classic, "Time Has Come Today." It is almost unfortunate that a song originally released 52 years ago carries a message that still urgently needs to be heard here in 2018, but it does, and Too Slim and the band give it a fierce and sincere workout.
The stage is then set for the originals, and like the skilled veterans they are, Too Slim and the Taildraggers doesn't try to immediately re-blast you out of your seat after the Chambers Brothers track. "Trouble" eases in on a harmonica riff doubled off the bass line, just to let you know that you're in for a taste of the hoodoo from a bunch of guys who know how to get that first foot in the door before you've even noticed. With unhurried confidence, you get an introduction to the locked-in rhythms of Jeff Fowlkes' drums and Zach Kasik's bass. As a bonus, the track also features one of the best harmonica workouts I've heard so far this year from special guest Sheldon "Bent Reed" Ziro.
The blues takes a bit of a backseat to the dynamics of Southern Rock on "Broken White Line," but there is still room for the first really scathing lead break from Langford that moves from a wah-wah groove to soaring string bends, that take you along with them, in the blink of an eye. "Stories To Tell" follows with some good ones, laid over the top of a shakin' and city-fied strut that is just this side of funk, but can still move hips without even trying.
As you listen to blusier "One Step at a Time" it becomes clear that, when a guy who has been grinding up the road for three decades tells you that life is a tough battle but still, and always, worth fighting with everything you've got, you best believe him. If the vocals aren't enough to convince you then the unstoppable rhythm section will give you something to hold on to until you're rested and ready for your next battle.
The vibe swings back to the rock side on "What You Said." Starting off with a ZZ Top feel before it builds to some Robin Trower-esque drama and menace, the feel puts you in mind of wide wet nighttime streets. The city menace continues on "Run Away," but with a hard shot of cold, angular rhythm running through its heart to match the narrator's offer to run away, that sounds like both an opportunity and a threat. The guitar break almost sneaks into the hypnotizing middle section here before it takes you on a ride of its own as the band raves up the tempo for a big finish. This album stand out will likely be a centerpiece of live shows in the upcoming tour.
The central theme of capital "T" Time comes back on "A Little More True." Once again, the legitimacy that can only be earned from decades of gigging the planet, gives automatic weight to the sage road-dog advice and lament heard here. You feel every mile both behind and ahead of this band, and as always, Langford's guitar, from the verse fills to the breaks reinforces his words with the kind of sincere power that always trumps flash. The murky dark truths found in the tale of "Lay Down Your Gun" burn slowly and make this a real dark alley of a song that might kill a lesser band.
In a final smooth veteran's move, Too Slim and the Taildraggers close out the collection in the same crafty way they started back on "Trouble." Title track "High Desert Heat" is an unhurried song of subtle brilliance and understated confidence. This instrumental ode to the desert southwest takes you completely out of the city you've been dwelling in for the past six or seven songs and is so authentic and tumbleweed-y it might make your car overheat, even if you're not actually driving across a desolate, sun-baked landscape. The big fat vibrato that holds the slow but relentless rhythm together leaves plenty of room for Langford's thoughtful, I would even say touching, slide guitar work. There is a level of mastery at work here, and throughout the collection really, that can sometimes almost be mistaken for casualness. It isn't. Listen closely and you'll hear it too.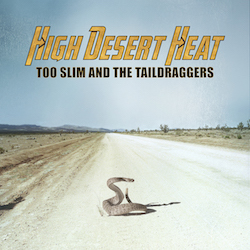 For more information on High Desert Heat by Too Slim and the Taildraggers:
Website: http://www.tooslim.org
Facebook: https://www.facebook.com/TooSlimandtheTaildraggers
Apple/iTunes: https://itunes.apple.com/us/album/high-desert-heat/1352523421